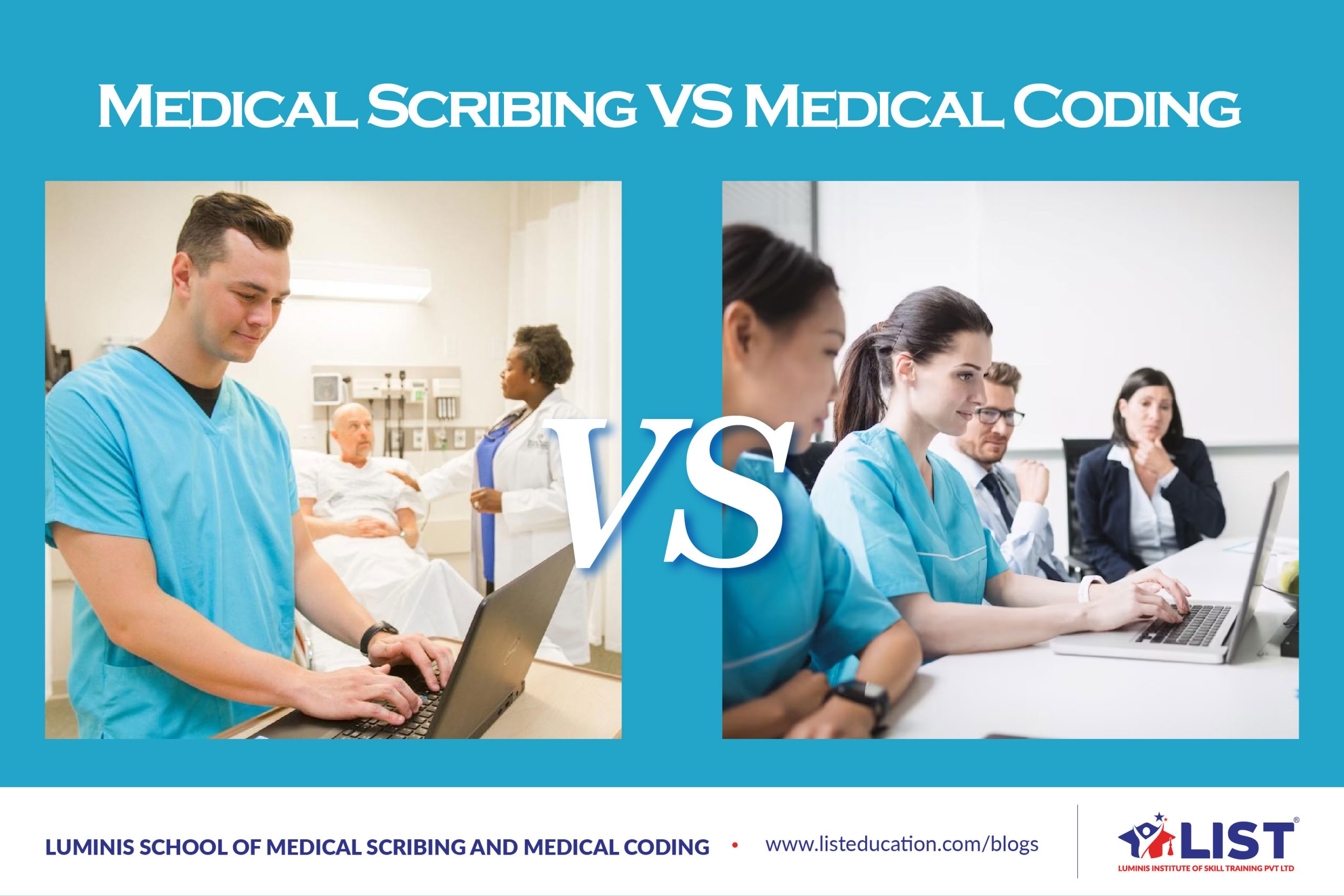 Medical Scribing vs Medical Coding
Medical Coding and Medical Scribing are two novel concepts that arose in the modern medical documentation sector. In the last two decades, we have heard these terms many times, but many of us are still unaware of what these terms actually refer to. Before going deeper into the opportunities these concepts introduced into the medical sector, we should answer this question- What is the difference between medical coding and medical scribing? Which one has the better opportunities in this fast-progressing industrial world?
Medical Scribing VS Medical Coding
Medical Coding 
By definition, medical coding is the process of transforming medical records of healthcare diagnoses, procedures, medical services, and equipment into universal medical alphanumeric codes. A medical coder will assign CPT, HCPCS, and/or ICD9 codes to the patient's charts which accurately describe the procedure performed and diagnosis rendered by patients. This transformation will increase precision, reduce time delay in medical chart preparation and thus boost the insurance claim process.
Skills required for a medical coder:
Specific billing and coding knowledge and computer skills.
Possess good people skills to communicate with the medical staff, patients, and insurance companies
Certification is optional but highly recommended
Growing Demand for Medical Coding
As mentioned earlier, alphanumeric codes will bring countless benefits to healthcare documentation. It has revolutionized medical billing procedures, especially the current procedural terminology (CPT) medical code developed by the American Medical Association (AMA). As per the data of the Labor Bureau, the Medical Billing & Coding sector is expected to grow by 15% between now and 2024. Valued at $15.2 billion in 2019, the global medical coding market will witness a CAGR of 9.6% during the forecast period (2020–2030).
The rising incidence of insurance fraud and growing demand to modernize hospital billing procedures are the key growth factors driving the medical coding industry. In addition, almost 30000 job openings are expected in the next seven years in this industrial sector. More interestingly, nearly 80% of healthcare businesses in the U.S. are outsourced to India. As a whole, studying a medical course offering quality training in medical coding opens enormous possibilities to achieve career stability, financial security, and academic fulfillment.
Medical Scribing 
Medical Scribing differs from medical coding and medical transcription in many ways. The major difference is that a medical scribe has no physical data to get documented. Instead, a medical scribe observes everything a doctor goes through using google glass, an innovative piece of equipment through which you can see everything someone does from anywhere in the world. Here also, the primary objective is to reduce time delay in medical documentation and enforce the insurance claim process.
Skills required to become a medical scribe
Need listening skills and knowledge of medical terminology.
Excellent typing skills, grammar, and other linguistic abilities.
The intense focus could put a lot of stress on the mind
Medical Scribing and its enormous possibilities 
What makes medical scribing one of the most demanded professions in the present medical documentation sector? Medical Scribing or medical coding, which is better? What makes medical scribing a dream job for students who wish to secure financial stability and career security? Let's find out.
1-Convenient Work Schedules
A medical scribe will have working time as per the doctor's work schedule. Generally, it will be five days of work in a week. In addition, their working hours will be only around 8 hours.
2-Be the doctor's right hand
A medical scribe can reduce the doctor's time spent on documentation by being their real-time assistant and thus scheduling their appointments for more patient care. Thus, this job provides a reputed position in society.
3- Possibility to work independently
A medical scribe can work as a documentation specialist in a hospital. At the same time, they can also work independently for doctors and earn sufficient money remotely.
4- Better Career Growth Opportunities
Starting from 40000/- per month, a medical scribe can earn 60000-70000/- per month, in a very short period. Also, the time to get trained and certified as a medical scribe is lower than for other professional degrees.
5- Exposure to the International Healthcare system
A medical scribing study program is very relevant and is always futuristic. The international healthcare system has a huge demand for medical scribes, which increases each day.
Medical Scribe VS Medical Coder Salary
A medical scribe starts their career as a 'Doctor Approved Medical Scribe' with a starting salary of 40000 Rs in India. Moving forward to become an executive medical scribe and Ace Medical Scribe, they can earn 43000 and 45000. It is preceded by Super Scribes or Implementation Specialists, where you can earn 47000- 50000 Rupees, and as a Deputy Client Manager, you get 53000 Rs per month as a starting salary. The maximum position you can achieve in this journey will be a client manager. A client manager will get paid a minimum of 57000 per month, but it will be higher for a travel client manager, which will be 67000 per month.
On the other hand, someone who studied medical coding starts their journey as a certified medical coder. The average annual salary of a certified medical coder gets in India is around ₹ 362,500 per year or ₹200 per hour. At the same time, the salary scale will exponentially increase with your experience so that you can earn up to ₹ 670,500 per year within a short span of time. The salary you get will depend upon your skill, speed, and accuracy in documentation. At the same time, medical coders have many opportunities abroad, whereas, in the United States, they can earn almost 40$ per hour.
As a whole, both medical coding and medical scribing are the skill training programs of the future where the medical industry invests more anticipation. At the same time, you only need to invest a lesser amount and time to become a professional medical scribe or medical coder compared to the other conventional graduation programs in India. Even though most students are unaware of the huge possibilities of these courses, medical scribing, and medical coding are becoming topics among those who seek a better career in the medical sector.