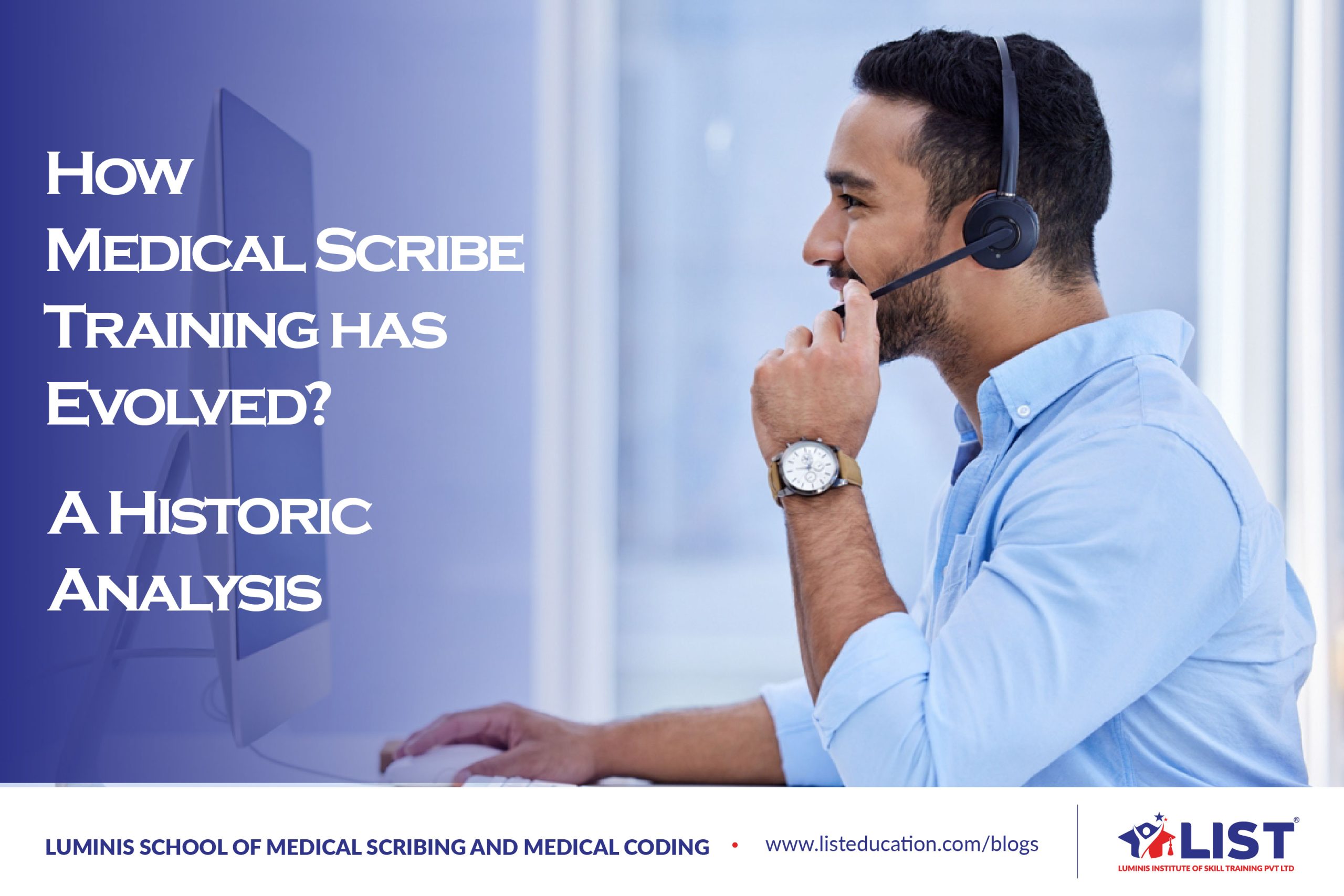 How Medical Scribe Training has Evolved? A Historic Analysis 
From ancient times onwards, documentation is always part of medical treatments because doctors need to write down their findings to research more, aiming to resolve unprecedented medical challenges and situations. In other words, the documentation process is vital when treating someone at every time in history and in every society. Also, error-free documentation was considered fundamental in medical documentation since it can decide whether someone lives or dies.
Medical documentation has witnessed a revolution with the arrival of electronic health records (EHRs) since the 1960s. But we never paid much attention to them until the US Department of Health and Human Services (HHS) passed the Health Insurance Portability and Accountability Act (HIPAA) in 1996. This act implemented high-level security and confidentiality while handling medical records. Also, this act introduced prescribed penalties for those who did not follow these regulations. It was a turning point for health organizations to shift to EHRs, and that was just the beginning.
For the doctors, all the notes needed to be typed directly into the EHR. It made their work life very hard since it demanded most of their time before EHR than caring for patients. During this period, many medical transcription companies came forward to assist medical experts with documentation work. Also, when doctors were training medical students in their practice, they used the students to generate notes on EHR while they cared for patients. This slowly developed into a regular practice, and doctors and medical students found it mutually beneficial. It slowly became a part-time job opportunity for medical students.
In addition to the United States of America, many nations like Japan, Singapore, the Middle East, and European countries insist their citizens compulsorily take insurance policies to handle their medical expenses. For an insurance claim to get approved, a doctor should submit a detailed medical record of the patient. This report will contain details about the symptoms, medical conditions, medicines, and the total expenses related to the specific medical case. Developing, evaluating, and approving/denying such a medical record is time-consuming work that insurance companies and medical institutions consider most important. But it is difficult for the in-house staff of insurance companies to handle such documentation work in bulk, and they begin to think of outsourcing such jobs.
At the same time, medical terms get converted into internationally accepted alphanumeric codes to reduce error occurrences, called coding. All these procedures had their own limitations in handling a mountain of documents when the requirement for documentation is enormous. In addition, the outsourcing partner may or may not be an expert in handling medical data and can create many issues like dialectical miscommunications. This dilemma opened doors to a novel concept- medical scribing- that can resolve the existing limitations of medical transcription.
Releasing the insurance amount containing medical codes by analyzing medical reports will eventually take 3-4 months. Here comes the innovation of Google glass, which revolutionized the concept of medical documentation. A doctor wearing this equipment will enable someone sitting anywhere in the world to observe what the doctor actually sees and what they are going through. It enforced a shift from a medical transcriptionist to becoming a doctor's real-time assistant. The world called these assistants Medical Scribes. They became very popular and part of a doctor's routine. In addition, technological innovations enabled Google glass to generate Medical codes automatically, and we can imagine how much time and energy will save with this in documentation works for processing insurance claims.
Several studies have shown that medical scribes could contribute to higher patient volume, increased revenue, and better patient and provider satisfaction. According to the American College of Medical Scribe Specialists (ACMSS), the number of medical scribes employed in U.S. hospitals and clinics has doubled annually since 2014. As we all know, India is a country that shares a time zone difference with the western nations of one night, which makes the country feasible for around-the-clock outsourcing services. Also, India is rich with professionals who can manage technical documentation works, which makes India the favorite destination for outsourcing.
As a leading skill training institute in Kerala, we understand the terrible need for medical scribes in our country and abroad. Our partnerships with many healthcare service providers help us ensure our students get jobs with higher salaries that no one can assure. When many other medical scribing institutions in India only ensure a probation period for their students and claim that they are giving job assurances, Luminis ensures that every student trained with us actually gets placed in reputed companies as a medical scribe. In light of recent developments, we should say that medical scribing has a bright future in our country. The opportunities are on an exponential hike.