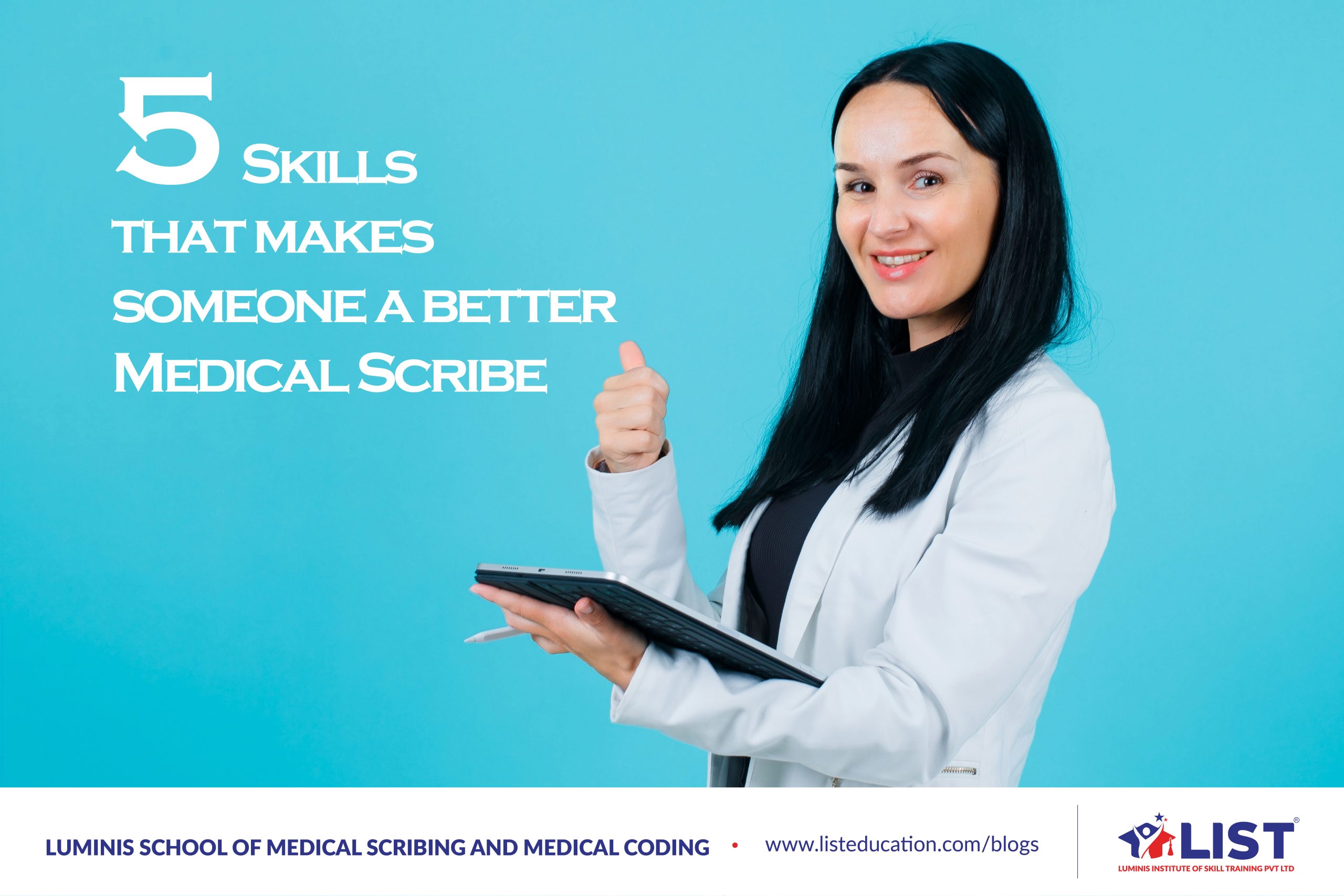 5 Skills that makes someone a better Medical Scribe
Medical Scribing is one of the most demanded professions nowadays. Anyone with an average skill set with enough enthusiasm to work in the medical industry can become a medical scribe. In addition, they can acquire these skills in a short time too. But how can someone be a medical scribe? What skills are needed to be a medical scribe?
A medical degree/ medical background is not necessary to become a medical scribe. At the same time, a solid foundation of medical scribe training, education, and experience is fundamental to becoming successful in this area. Here we discuss some skills needed to be a medical scribe which is considered the foundation of your journey towards a successful medical scribing career.
1. Learn Fast
For someone with zero background in the medical sector and no idea of medical terms, medical studies, and medical documentation, there are many novel things to learn when you go forward with medical scribing. Information about government regulations, understanding of your roles and functions within the clinical setting, and the comfort of using EHR documentation is likely the knowledge you'll have to learn within the first week of work. Also, the primary duty of a medical scribe is to listen to someone from another continent and document what they say and do. For this, you might master the listening skills and develop a method to document them at lightning speed. More clearly, you should be able to type 70 wpm or more with 95%+ accuracy per minute. These are considered the most necessary skills for a medical scribe.
2. Understanding of medical terminology
To understand and document the activities of a medical professional, you need to be well aware of the medical terminology, anatomy, procedural and diagnostic names, and so on. Most organizations looking for medical scribes opt for pre-med students because these candidates typically have a better understanding and knowledge of these terms. This means, when someone without any medical background prepares to become a medical scribe, they need to develop high proficiency in this area. It doesn't mean you should already have a high level of understanding of complex medical terminologies. This goes back to the first skill needed for a medical scribe, the willingness to learn, and learn it fast.
3. Ability to Handle Pressure Situations 
As we all know, a clinical setting can be very stressful and fast-paced since it can decide whether someone lives or die within a few minutes. Each moment in a clinical environment is very crucial, and a documentation expert should never miss it. This means a medical scribe will be surrounded by controlled chaos and life-and-death decisions every time. Here, you must be prepared to face these challenges and develop the skill to handle them with a strong heart. The ability to be steady and calm and the courage to confront pressure and stress is considered one of the most crucial skills needed to be a medical scribe.
4. Being Self-Motivated
Reducing the burden on healthcare professionals and enabling them to focus on more patient care is the contribution of a medical Scribe to the medical sector. Also, by ensuring the smooth functioning of the insurance claim process and fund release, a medical scribe enforces the entire healthcare system. Thus, being self-motivated as a medical scribe is an essential skill someone should develop when working as a medical scribe. Being a medical scribe is a responsibility and a service to society. Never hesitate to value it.
5. Regular and continued skills improvement
The healthcare industry is undergoing constant change. It includes the latest treatments and procedures, new government regulations, fluctuating healthcare requirements of the public, and many more. In that sense, the top skill needed for a medical scribe is to get updated with the fast-progressing medical world. Apart from all these skills needed to be a medical scribe, have a caring heart, a drive to help those in need, and develop an intense desire to improve.
In Luminis, we focus on uplifting the intellect of each student and enabling them to be eligible for undertaking the most difficult challenges of medical scribing projects. We have reputed medical doctors as training faculties with enough experience in the area, and they will ensure you get quality training. Know more about us at @994657793445