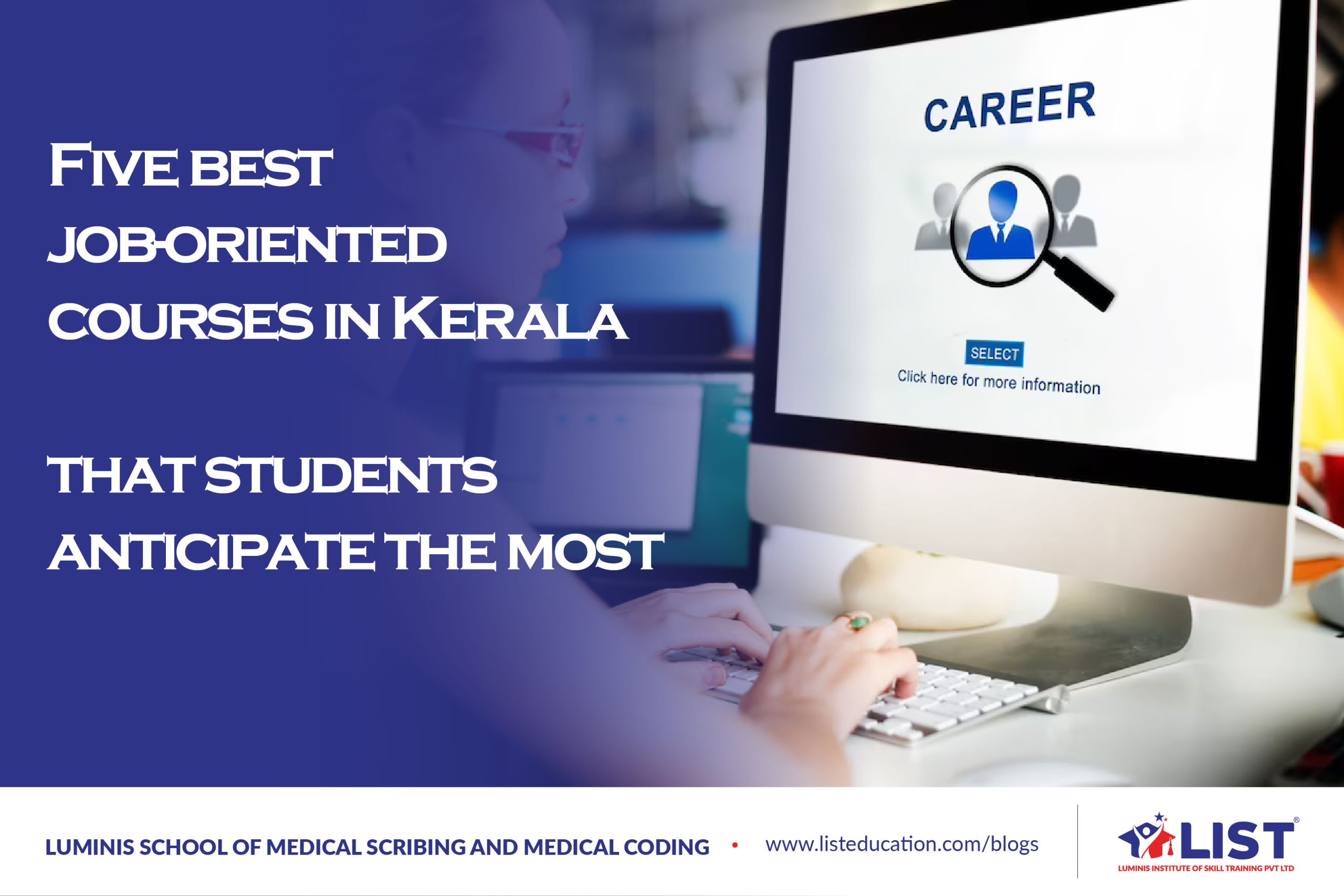 Best job oriented courses in Kerala
For Indians, studying a graduate program or being a graduate is an inevitable step everyone should take. For more than 50 years, our practical knowledge has taught us to do so, and we follow this thought even though we do not have a clear idea of where it leads us. The problem is that graduation may not be sufficient to provide you with the necessary practical knowledge for jobs in most industries. When a company hires someone, they get forced to provide training for the new joiner to make them capable of doing the job. When comparing a graduate with an undergraduate having practical knowledge, experience weighs higher. In other words, to compete with other experienced candidates in the industry, we must develop practical skills. Let us introduce five such skill-oriented courses, which have become the leading job oriented courses in Kerala these days.
Medical scribing is a novel concept raised in modern medicine. After the arrival of EHR (Electronic Health Record), doctors had to focus more on documentation and clerical work, and medical scribing relieved them of such documentation. As the Doctor examines the patient, a third person named the medical scribe watches the examination through Google Lens or any other gadget and transcribes everything they see. It will save doctors time for patient care. In this advanced process, Google technology enables a second person to become the Doctor's real-time assistant. These assistants or scribes are part of the medical care team, and be in constant contact with the Doctor, and observe everything the doctor experiences for a day. Scribes are essential in capturing the narrative of every patient visit.
Why is Medical Scribing the best job-oriented course in Kerala?
Many factors make medical scribing one of the most preferred job oriented courses in Kerala after plus two. Some of them are:
Medical Scribing makes someone with a plus two qualification work as the doctor's right-hand person for real-time documentation, within a short period.
They can have the possibility to work independently and directly for Doctors.
A medical scribe has to work five days a week, and their working hours are only around 8 hours per day.
As one of the best short-term courses in Kerala, medical scribing lets students achieve a prosperous future and predictive career growth opportunities with exposure to the International Healthcare system.
Apart from these highlights, the medical scribing career has a well-defined growth hierarchy. Anyone who completes a medical scribing course and training successfully will be a doctor-approved medical scribe with a starting salary of 40,000/-Month.
We can define Medical coding as the process of the transformation of healthcare diagnoses, procedures, medical services, and equipment into universal medical alphanumeric codes. A medical coder must handle the patients' diagnosis details and handle any unusual circumstances or medical conditions that affected treatments and medical services. They will also conduct audits and coding reviews to ensure the accuracy and precision of the documentation process. Ensuring that medical bills satisfy time frames, collaborating with the billing department, medical coding plays a vital role in reducing time delays in insurance claim processing, which makes medical coding one of the top-notch job oriented courses in Kerala.
Who is a Certified Medical Coding Professional(CMCP)?
A Certified Medical coding professional help alphanumeric codes developed from healthcare records to apply correctly during the medical billing process. This includes abstracting the information from documentation, assigning the appropriate codes, and creating a claim to be paid by insurance carriers.
Who Can become a medical coder?
Medical Coding Course Qualifications are, 18+ years old and a degree in any stream. The candidates should also be passionate to work in the healthcare industry.
In every aspect, Medical Scribing and Medical Coding are the best job oriented courses in Kerala. Anyone with a plus two qualification can study medical scribing, but medical coding requires a degree, which makes medical coding a demanded job-oriented course in Kerala after a degree.
Luminis, an ISO-Certified, NSDC-approved skill training institution, provides a training program to enhance the careers of aspirants, giving equal importance to improving communication and interview skills, which makes us the best medical coding institute in Kerala. We guarantee that our candidates will prosper with their personalities. For this, we have included telephone etiquette and personality development sessions.
3. Digital Marketing
Establishing an online presence is very crucial for every industry today. Digital channels have emerged as the best way to reach potential customers and maximum audiences. Thus, Digital Marketing has become one of the most anticipated job oriented courses in Kerala and can be the most anticipated education sector in the near future. Students are getting more interested in studying marketing tools, market research, market evaluation, etc, these days. The major attraction for digital marketing courses is that they can be available online and offline. A student can become eligible for entry-level positions in marketing by studying a digital marketing course. Since it is an area where experience plays a vital role, more experience lets you build a promising career in Digital Marketing.
There are many possible subcategories in Digital Marketing that you can explore. Some of them are:
Social Media Marketing (SMM)
Pay-Per-Click (PPC)
Conversion Optimization
Web Analytics
Content Marketing
Mobile Marketing
Email Marketing and so on
All these courses and topics deal with strategies to reach more audiences through digital platforms like Facebook, Instagram, Twitter, etc. Since such platforms are a part of our daily lives, studying their economic and marketing perspectives is interesting for the youth. It will open doors to a new arena which is unexplored in previous times and has enormous potential to earn money.
By finishing a digital marketing course, you can become a Digital Marketing Executive, Digital Marketing Manager, SEO Executive, SEO Manager, Social Media Marketing Manager, SEM Specialist, Digital Sales Executive, etc. Anyone with basic knowledge of digital platforms and an interest in approaching them creatively can have a better future in this area, choosing the best institutions to provide better short-term courses in Kerala.
Checkout Loudicon Academy for the Digital marketing course in Kerala
4. Machine Learning
Machine Learning (AI) is an essential part and an application of artificial intelligence algorithms (AI). The algorithms give a system the capacity to analyze data and automatically learn and improve from past experiences.
Machine learning courses are one of the best short-term courses in Kerala, which focus on the development of computer programs that can access data.
Machine learning courses cover all fields – including image recognition, medicine, cyber security, facial recognition, defect detection, and many more. An increasing amount of organizations are realizing that business intelligence is significantly affected by machine learning, and thus are deciding to put resources into it The span of machine learning courses varies from 4 months to 12 months according to the certification.
One who completes machine learning training can post to various job roles like:
Data Scientist
Business Intelligence Developer
Human-Centered Machine Learning Designer
NLP Scientist
Machine Learning Engineer and so on.
5. Graphic Designing
The major attraction of Graphic Designing is that it has applications in almost every other industry. No matter which industry you wish to work in, a graphic designer will have a place there. Studying Graphic Designing is less time-consuming and you can have many possibilities of finding a suitable graphic designing course among the top job oriented courses in Kerala.
Topics such as image editing and enhancing, editing software programs (Adobe Photoshop, Illustrator, etc), sketching, logo designing, UI designing, printing technology, and many more are part of the course, and it will be interesting for those who have a creative mind and interest. After completing this course, one may take on the following job roles:
Graphics Designer
Brand Identity Manager
Printing Specialist
Creative Director Entrepreneur
Typically, the duration of a short-term graphic designing course will be 6 months. At the same time, it is also available in 3 months as shorter versions of the same course.