Career Growth of a Medical Scribe – All you need to know
Modern problems need modern solutions. Since unemployment is the most crucial problem that requires finding a solution in India, new-generation jobs are getting observed with huge anticipation. Studying Medical Scribing is undoubtedly one such solution and one of the best job-oriented courses in India through which the skillsets of the youth in India can get uplifted to fit new-generation jobs in the healthcare sector. Compared with previous times, studying a medical scribing course comes at the top priority list of medical students in India nowadays. In this article, we discuss how the study of medical scribing will secure the life of a job aspirant and how much one can earn as a professional medical scribe in India.
The Emergence of Medical Scribing with Google Glass
The invention of Google Glass has revolutionized the area of medical documentation. It is a spectacle-like equipment through which we can observe something on another continent with the help of the internet. In other words, someone can see what a doctor sees if the doctor is wearing a Google glass during his process of healthcare diagnosis. Not primarily aimed to implement in the medical sector, Healthcare investors found Google Glass well suited to meet modern documentation requirements.
If someone observes the doctor's actions through Google Glass, they can also document it sitting anywhere in the world. It will bring several benefits to the healthcare industry for sure. But the problem was the lack of skilled professionals to handle this job- being the real-time virtual assistant of doctors – understanding the medical terms and terminologies they use, etc. It is not very easy to understand what the doctor speaks and document it lively without any error or time delay. There comes the scope of training medical scribes.
Why do healthcare firms hire medical scribes?
It's the million-dollar question. Generally, it has two answers. First, to reduce doctors' time spent on documentation and allow them to focus more on patient care. Second, to reduce the time delay for insurance claim processing and thus release the insurance amount swiftly. In both cases, one medical scribe should be there for every doctor to do the documentation to the desired level. No more explanation is required to specify the demand for a medical scribe, especially in India, where most outsourcing jobs from the West get landed. If we assume the number of doctors in the world, the huge demand for medical scribing specialists is getting justified very well, and no wonder medical scribing becomes the most preferred job-oriented course in Kerala after +2.
What is the Job Hierarchy of a Medical Scribe? 
How Much Do They Earn?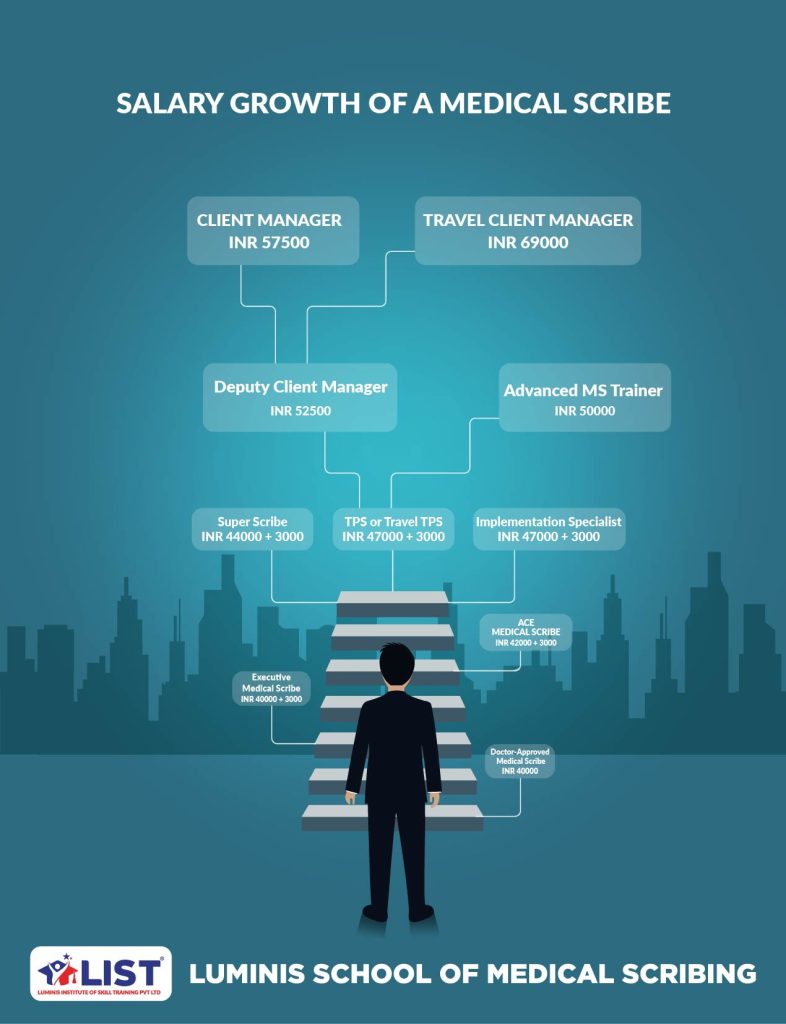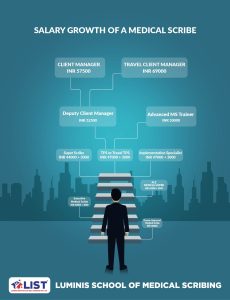 What is a medical scribe's salary in India? The first position where a medical scribing graduate can land will be of 'Doctor Approved Medical Scribe'. This job position will provide 40000 Rs as a starting salary in India. At the same time, an executive medical scribe and Ace Medical Scribe, the next job level, can earn 43000 and 45000 per month respectively. It is preceded by Super Scribes or Implementation Specialists, where you can earn 47000- 50000 Rupees, and as a Deputy Client Manager, you get 53000 Rs per month as a starting salary. The maximum position you can achieve in this journey will be a client manager. A client manager will get paid a minimum of 57000 per month, but it will be higher for a travel client manager. A travel client manager will be eligible to get a salary of 67000 and be viewed as one of the top positions in a company.  
As a whole, starting from a medical scribe, you can travel to the company's top position if you have enough enthusiasm and commitment. At the same time, you only need to invest a lesser amount and time to become a professional medical scribe compared to the other conventional graduation programs in India. Even though most students are unaware of the huge possibilities of it, medical scribing is becoming a hot topic among those who seek a better career in the medical sector.